Ens Lexus Dealer Rewards
---
Get Rewarded when you service your vehicle at Ens Lexus
---
Receive Dealer Rewards with every service visit.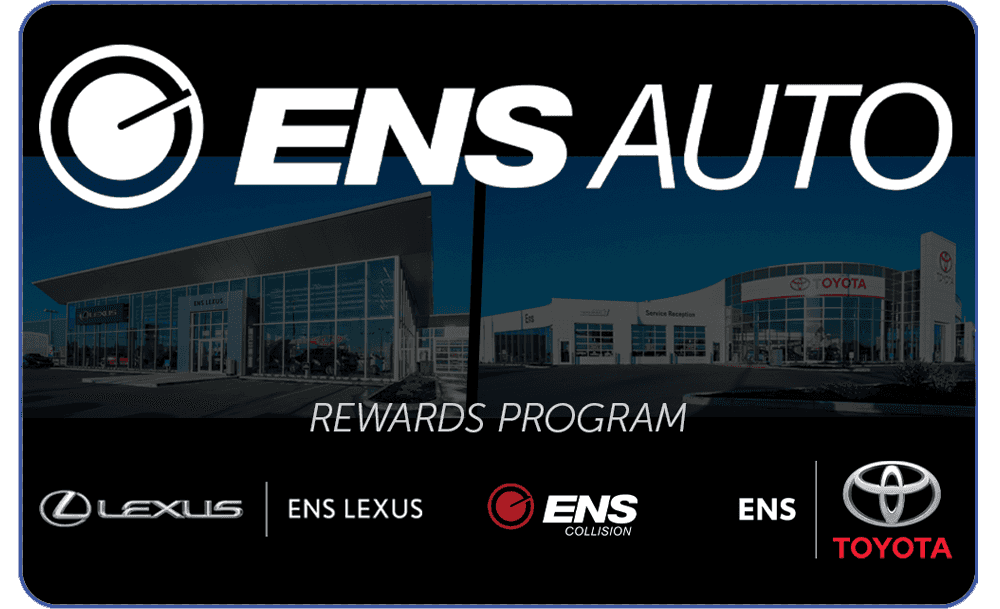 ---
What are Ens Lexus Dealer Rewards?
It's simple! For every dollar you spend in our service department, you'll get 5% back in service rewards dollars to use at a later date or 10% in sales dollars towards your next vehicle purchase!
It's like cashback to take care of your vehicle! You can use your Ens Auto Rewards towards accessories, service, parts, sales, Lexus merchandise & more at Ens Auto.
Earn reward dollars for every qualifying purchase & save hundreds off your next new or pre-owned vehicle purchase and save on future vehicle service visits, too!
BUY HERE
10%* of every dollar you spend at our service & parts departments will be available for you to spend on the purchase of your next new or pre owned vehicle from any Ens Auto Dealership (Ens Toyota & Ens Lexus). Simply present your Ens Auto Rewards card to your Product Advisor, and we will deduct your rewards balance (up to a maximum of $1,000) off the vehicle purchase price.
SERVICE HERE
5%* of each dollar you spend in our service department may be used for future service, parts & accessories purchases. Simply present your Ens Auto Rewards member card at your service visit. When you are ready to use your Ens Auto Dealer Rewards, ask your service advisor to redeem them.
It pays to come back to Ens Auto.
Want to sign up?
See an Ens Lexus team member or fill out our contact form below!
---
*Actual value varies depending on usage. Enrolled person(s) agrees to be bound by the program rules & conditions. Rewards dollars are earned by making qualified purchased at Ens Toyota & Ens Lexus only. Dealer Rewards dollars are accumulated based on 5% of total dollars spend, before taxes, discounts & promotions, on labor & parts from the service department. Warranty repairs do not apply, nor does internal work or fleet/corporate vehicles. Dealer Rewards can only be redeemed by the owner of the registered account. Participation in this program is at the discretion of Ens Motors Ltd. and may be terminated at any time with no notice required. All Dealer Rewards members must be at least 18 years of age. Cannot be combined with any other Ens Auto offer or loyalty program. Maximum redemption value of $250 per service visit, or $1,000 per vehicle purchase. If Dealer Rewards card is not active for 14 months all Dealer Rewards will expire. Dealer Rewards and program administrators reserve the right to change the program rules at any time without notice. Retroactive credit will not be given for previously performed services. Dealer Rewards are not transferrable and cannot be exchanged for cash. Some additional exclusions apply, see an Ens Auto Advisor for details.
---